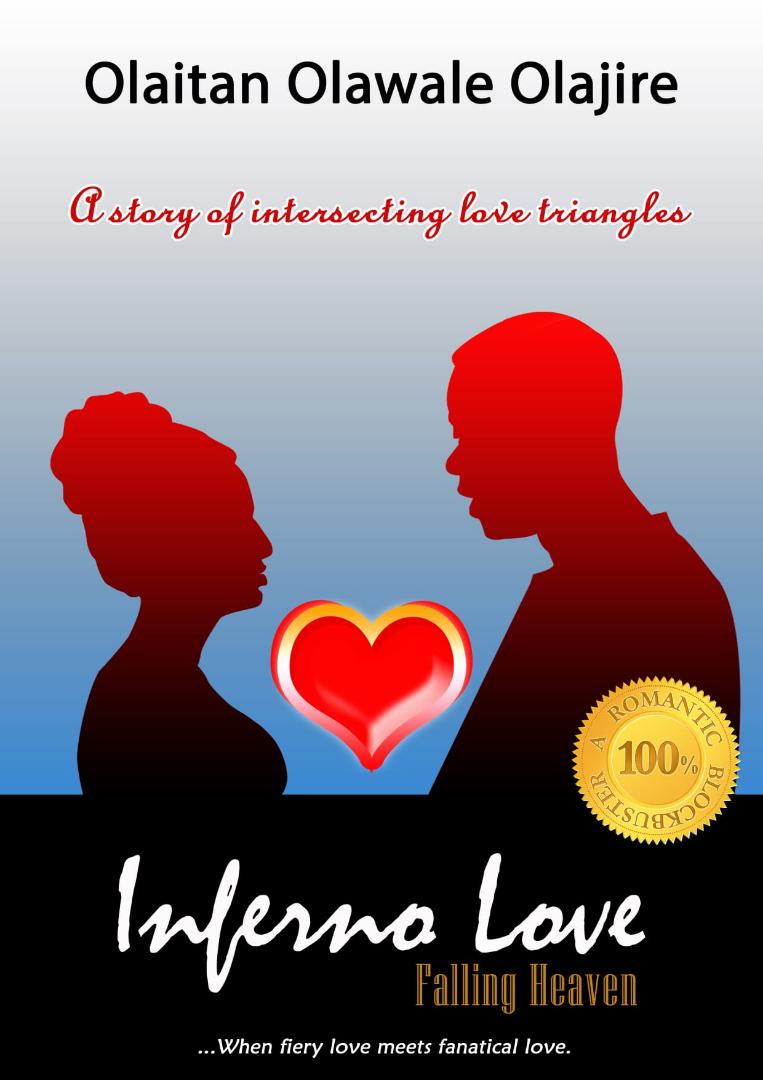 The book that wows everyone!
Inferno Love: Falling Heaven is an intriguing, compelling, instructive, fast, hot and spicy romance that leaves readers on the edge of their seats from the beginning to the end.
It tells the story of the tortuous love journey of a couple, and the fiery interconnecting love triangles that sorely tested their love, and that of everyone else within the encompassing love inferno.
Did anyone make it out alive and whole? Did any love-bond survive the gruesome inferno?
Inferno Love: Falling Heaven has been described as "intriguing and full of suspense"; a "wonderful story of love, excellently structured"; a "masterpiece"; an "amazing story of love"; a "refreshing read"; "so interesting"; "beyond epic"; "very engaging"; a "Relationship Methodology"; "captivating"; a "beautiful story"; "heart-thrilling and mind-blowing, a blockbuster", amongst other glowing praises.
This book is not just some feel-good story; it is a relationship manual that teaches great relationship principles needed before and after marriage in an easy-to-comprehend manner. It distilled major and common relationship issues and artistically present workable solutions that will help your relationship and/or breathe fresh air into your marriage.
For peanut, you will find numerous ideas on how to get the romance back into your marriage or, if you are single, learn about what you must do to find that right person.
Inferno Love is more than a novel; it is a relationship guide written in a pleasurable manner.
It costs just N2,500.
Make that investment into something that would enhance your relationship in ways you cannot even imagine.
WHY DIDN'T THEY STOP READING?
For more than a year, we periodically shared, online, several pages of the book in the form of "episodes". Over 50 episodes were shared. Why didn't people stop reading?
Let's read what people thought of Inferno Love, as they devoured episode after episode of the book:
"Wow! Intriguing story, full of suspense." - Tina
"Haaaa, Olaitan, you have raised the bar again; this suspense is weakening oooo...Well done, Olaitan, Wonderful story of love, excellently structured!" - Jumoke
"Another masterpiece from the great storyteller. Well done and thank you." - Ademola
"Here comes the amazing theory of love; Prof. Olaitan has increased our adrenaline! Well done, Olaitan, for taking us on another Magical flight." - Jumoke
"A refreshing read sir!"- Moses
"Your story becomes more interesting after each new episode. I'm enjoying every bit of it." - Dominion
"I was glued while reading this episode.....so interesting!" - Comfort
"Deep lesson here for the Single-and-Searching. Nice one, Olaitan." - Adon
"Olaitan makes sense always" - Ronke
"My love for Olaitan just increased by 198.32%!" - Shepherd
"This story line is beyond epic!" - Jumoke
"Very engaging. I couldn't stop reading till the end!" - Lanre
"Olaitan, I was almost going to ask whether we won't be served this week's delicacy!" - Peter
"I need to know the direction of Olaitan's thought process. What a beautiful, logical mind." - Shepherd
"Olaitan just keeps wowing us!" - Lanre
"He is on another level!" - Christian
"Beautiful intro on MIND connection!" - Christian
"See relationship tactics o...Let him unwrap himself but remain wrapped." - Victoria
"Olaitan has turned it into a lecture - Relationship Methodology 101!" - Dolapo
"Hungry for more... Why are you like this? I don't like suspense. I can't also decipher the direction of your thoughts. If I use my head to conclude one way, the next episode would change my thoughts" - Shepherd
"This is very captivating!" – Christian
"You are a prolific writer. You aren't only a goldfish but a diamond-golden fish. Hence, no hiding place!" - Jumoke
"Beautiful story indeed." –Olusola
"It's been a while I read a thrilling story like this." - Michael
"Inferno Love is heart-thrilling and mind-blowing. Inferno Love is a Blockbuster and I can truly say this anywhere. I pray for more wisdom for you as you quickly post the episodes, finish this wonderful story and reduce our suspense level (adrenaline hormone)" - Jumoke
"Your wisdom is second to none, Sir. A good job you're doing. I'm one of the people enjoying Inferno Love. Well done, sir." - Comfort
"I give you this Olaitan; you are good." – Adon
"Let's enjoy the story as we patiently wait to learn, relearn and unlearn from Lara's adventure. Well done." – Jumoke
"Great job, Olaitan. I am seriously following the story." - Tina
"I love the build-up and the suspense! Your description is stupendous! Well done." - Christian
"This is good!" - Damilola
"Full of Suspense. Thumbs Up."- Dolapo
"The story is getting hot!" - Tina
"This is getting more interesting oooo… Can't wait for the next episode." - Damilola
"Olaitan, you deserve a standing ovation. You are very good." - Adon
"About the book - Inferno Love - I've been following the episodes and I must confess, it's really interesting. You've really done a good job; more power to your elbow." – Olanike
"Olaitan this story is so captivating. I can't seem to get enough of it!." - Tina
"Olaitan, the suspense is off the roof. Proud of your work! – Kolawole
"This is a deep lesson for me as a parent. Thanks, Olaitan." - Adon
"Honestly this is getting more interesting than I ever thought. Chai! I read Episode 9, and I was speechless and didn't know what to say. Currently, I am dumbfounded!" Jumoke
"To say the least as a writer, you really did a great job here." – Moses
"I read Inferno Love. The descriptions were nice, apt and different. Thank you." - Dagbeyon
They all can't be wrong!
To purchase a copy:
Please, pay N2,500.00 (Two Thousand Five Hundred Naira) into the account provided below

Account Name: Simply Olajire Solutions Limited
Bank: Access Bank
Account Number: 0716837145
For further information, please reach us via a call, whatsapp chat or sms on 08027521139